Ever wanted to start an online forum? I always have. If I could ever find a smaller niche that I loved enough I certainly would. But what software do I use for it? How does it make money? How do I get it going? Well, if you ever wanted to know the answers to those questions, listen to this podcast (below).
I talk with Patrick O'keefe who wrote the book entitled Managing Online Forums. We talk about these topics (show notes below):
What's the difference between a forum and a blog?
What's the biggest forums out there. Big-boards.com is a great example
Which software to use?
Self-policing members
Social networks vs. forums
Seesmic is threaded discussions, a forum
How do you get it started and keep it going?
How do you make money? Classified ads is a good choice. Adsense. Sponsorships.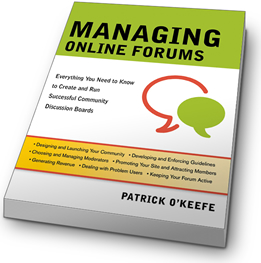 Managing Online Forums: Everything You Need to Know to Create and Run Successful Community Discussion Boards

Every day, millions of users log on to their favorite online forums, communities and social spaces and interact with others to get advice and discuss everything from the latest news and trends to their hobbies and professions to whatever else strikes their fancy. Administrators have to lead these communities, deal with difficult users, manage staff members and make tough decisions.
[display_podcast]